NEWS
‣
MAKING HUMAN RIGHTS A GLOBAL REALITY
WELCOME TO A SECOND GRADE CLASS HUMAN RIGHTS PARADISE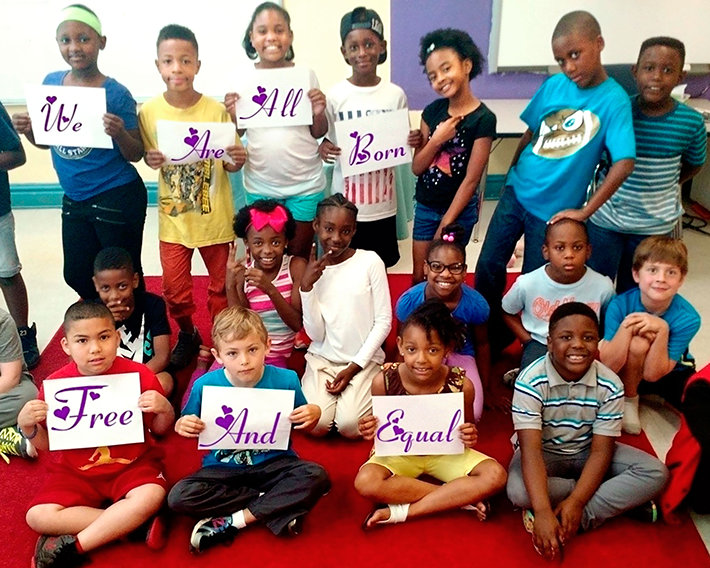 With the help of one effective program, Jordan has transformed the way her students interact.
Imagine a 7-year-old student accuses another of stealing his pencil. "I have human rights. I'm innocent until proven guilty!" the accused replies."You're right. I'm sorry," says the student with the misplaced pencil.
Though it sounds like a teacher's fantasy, that is exactly what began to happen in La'Kisha Jordan's second grade classroom once she implemented the Youth for Human Rights (YHR) program.
Jordan, a teacher at the art-based Community Charter School in North Carolina, came across YHR online several years ago. As someone who goes the extra mile to prepare her students for the day when they will "run the world," as she puts it, Jordan was eager to use the curriculum.
She started by showing the anti-bullying YHR "United" music video, which she called the "perfect tie-in" in a school where students are already singing, acting and dancing as part of their classes.
The kids were ecstatic, proposing new beats and scripts to go along with the film.
Jordan says they really connected with the video's portrayal of a small, young boy trying to play basketball on the same court as a "big kid" and getting bullied away.
"I saw them realizing over time when they too have been the ones who were outcasting someone," says Jordan.
That's when it began—students correcting each other on the playground, citing their human rights. "Remember what we learned" or "What you're doing is a lot like that video" they would say politely.
"One day she sent them home with the What Are Human Rights? booklets. She was soon hearing back from shocked and impressed parents: "My kids just keep telling me my human rights!"
"And it didn't cause much dispute," says Jordan. "The other student would say, 'Oh yeah, I forgot.'"
Day by day, Jordan took the students through each of the 30 human rights, putting up the corresponding poster on the wall as she arrived to the next lesson.
Arranging them all in a circle, Jordan had her students discuss the scenarios in the public service announcements and similar situations in their lives.
One day she sent them home with the What Are Human Rights? booklets. She was soon hearing back from shocked and impressed parents: "My kids just keep telling me my human rights!"
Jordan says her special needs students in particular embraced the program, pointing to the different posters to indicate their rights in conversation.
"This is a child who [society has] marked out by saying they won't rise up above a certain level," Jordan says, "but that same child is connecting to human rights, and knows that he shouldn't be mistreated in this world."
Jordan attributes such success to the brilliant layout of the program, which ties one idea in with the next to "help them reach that 'big picture,'" as she puts it. She is so enthusiastic about what Youth for Human Rights has done for her students, she has the materials ready for her colleague who will be teaching the same group next year.
A few days before the end of school, Jordan's students, breathless and excited, told her they would be painting a banner for Human Right #1, "We Are All Born Free and Equal," to be hung out in the hall for all to see.
She tried to tell them the whole school was packing up for the summer, but they were too excited to care.
---
DONATE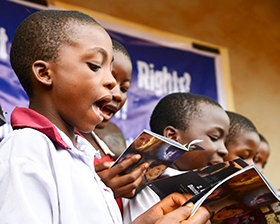 Support Youth for Human Rights and help protect young lives from human rights abuse. Your contributions enable us to make our educational materials available free of charge to schools, youth organizations and other groups and individuals. Your support helps empower people with the facts they need to live happy, secure lives.