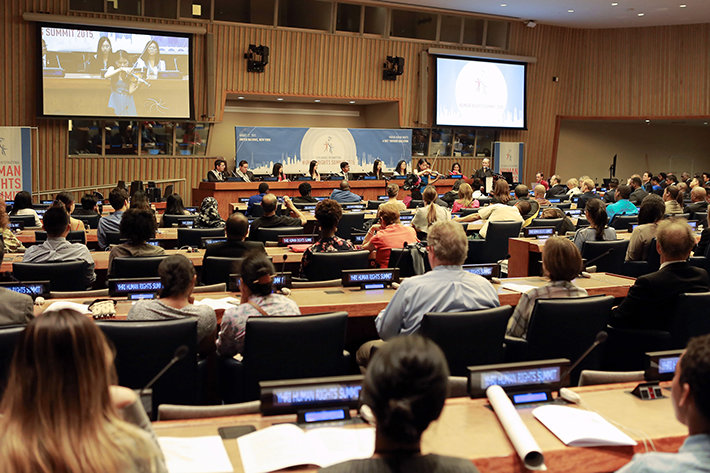 The 12th annual International Human Rights Summit began with a flourish of flags and 43 young people representing 33 nations in a procession signaling the start of the three-day Summit at United Nations Headquarters in New York.
The Summit's purpose: Bring young people together from around the world who share the goal of changing their nations through human rights and arm them with further knowledge, experience and plans so they make that goal a reality.
read more >>
---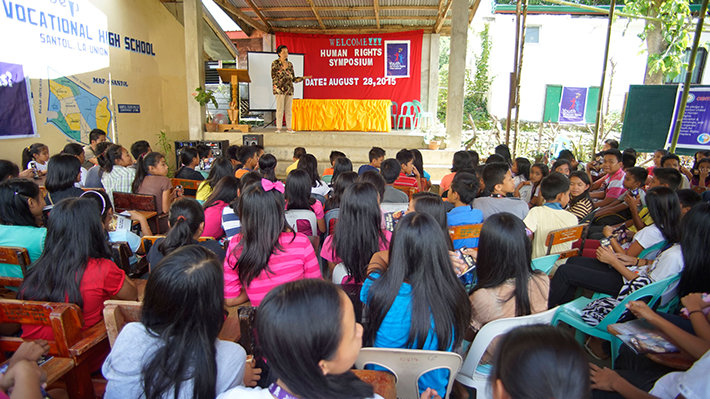 The legacy of martial law and suppressed freedom of speech and other basic rights under Philippine President Ferdinand Marcos still lives today in the island nation. The US State Department Human Rights Report of 2015 cites "significant human rights problems," including "allegations of violence against human rights activists," while those entrusted to protect them are themselves accused of human rights violations. The report further notes "extrajudicial killings and enforced disappearances undertaken by security forces and suspected vigilante groups and a weak and overburdened criminal justice system notable for poor cooperation between police and investigators."
read more >>
---
HUMAN RIGHTS EDUCATION PACKAGE
What Educators Say
Eighty five percent of Youth for Human Rights and Bringing Human Rights to Life Education Packages are ordered by school and university educators. With users rating the curriculum and materials on a scale of 1 to 10—based on effectiveness, ease of use and response from students—the average score is 9.4, with over half scoring a 10. A sampling of comments:
"THE STUDENTS HAVE BECOME ADVOCATES FOR OTHERS AND SELF-ADVOCATES AS WELL. THEY STAND UP FOR EACH OTHER ON THE YARD AND SAY EACH PERSON HAS THE RIGHT TO DIGNITY."
read more >>
---
BRINGING HUMAN RIGHTS TO STUDENTS EVERYWHERE
United for Human Rights and its youth component, Youth for Human Rights International, provide Educator Kits, containing everything a teacher needs to teach their students about human rights.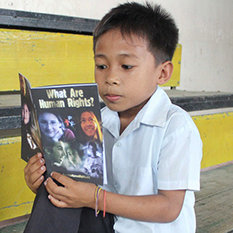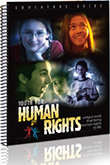 Educator Kit
More than 4,400 were ordered this year by educators across the globe.

Schools
This year, over 3,500 schools delivered lessons based on the Educator Kits.

Students
More than 137,000 students learned their human rights this year utilizing the Educator Kit.
---
Delegate: In the Spotlight
This is Juan Carlos Cantu Tamez's second Human Rights Summit. In 2013, he formed the Youth for Human Rights chapter for the state of Nuevo Leon, Mexico, which carries out human rights walks, concerts, photo exhibitions and educational programs. He finds the Youth for Human Rights materials help his group get through to other young people who may be reluctant to make waves. "We are responsible for changing that mindset, for a better society," he says.
---
The Right to Seek a Safe Place to Live? The Stats
Article 14 of the Universal Declaration of Human Rights states, "Everyone has the right to seek and to enjoy in other countries asylum from persecution." Yet:
19.5 million people are currently registered as refugees based on data from the UN Refugee Agency.




1.66 million people submitted applications for asylum in 2014, the most ever recorded in a single year.




59.5 million people are forcibly displaced worldwide.




Europe has witnessed a large number of sea arrivals in 2014. More than 218,000 refugees and migrants have crossed the Mediterranean Sea in 2014—almost three times the previous known high of about 70,000 in 2011 during the "Arab Spring."




The application for asylum rose 45 percent between 2013 to 2014, with the largest amounts coming from Syria, Iraq, Afghanistan and Serbia and Kosovo.




More than 600,000 people have applied for asylum in Europe in the first eight months of 2015—just shy of the previous year's total of 662,000. This only includes those immigrants who have formally applied for asylum, more than 20 percent from Syria.
---
HELP MAKE HUMAN RIGHTS A REALITY
Join the international human rights movement by becoming a member of United for Human Rights. UHR assists individuals, educators, organizations and governmental bodies in all parts of the world to raise awareness of the Universal Declaration of Human Rights.