NEWS
‣
MAKING HUMAN RIGHTS A GLOBAL REALITY
HOME TO PORTUGAL TO TEACH HUMAN RIGHTS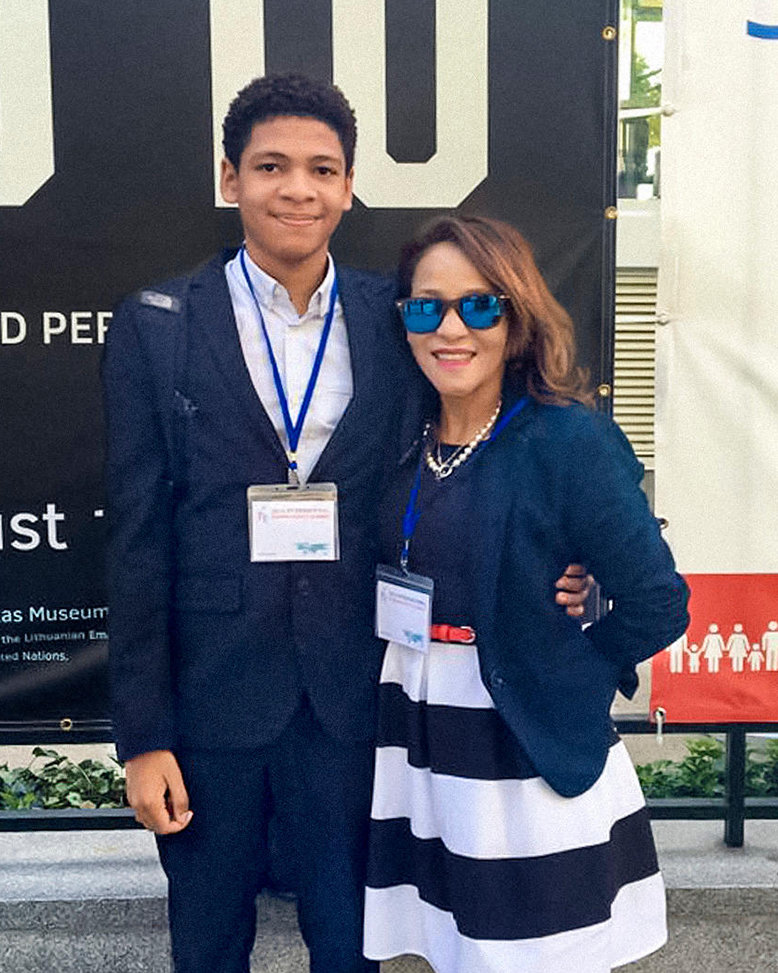 Mother and son human rights advocates and educators adopt YHRI campaign.
Born in Portugal and raised in Brazil, Claudia Fernandes grew up among people of many cultures, which shaped her outlook on life. Her mother inspired her to volunteer, and she developed a passion for serving others. She has lived in seven countries, which further expanded her acceptance of different viewpoints. After a university education in Portugal, she moved to the US.
Living in America, the need for human rights education became real to her when her then six-year-old daughter was bullied at school. The teacher not only did nothing, but contributed to it. Finding YHRI, Claudia formed the foundation Incubator of Young Leaders for Human Rights with her son, to develop ethical, responsible and supportive leadership. "Human rights is power," says Claudia. "But it is important not just to know about human rights, but also to teach them to others."
After she and her son attended the 2016 International Human Rights Summit in New York, she was inspired to do more with YHRI. She moved back to Portugal and started a human rights project under the local Porto area government in the north. The purpose was to promote equality and non-violence in schools. The project included school seminars and human rights events.
She now has the green light to train teachers so they can continue the delivery with their students. "If you can manage to teach children well enough, you can change the future," Claudia concludes.
---
WE

really

WANT TO HEAR FROM YOU
The United for Human Rights and Youth for Human Rights materials are free for those who will use them to learn their own rights and to teach others. Here is what some said when ordering:
SOCIAL STUDIES TEACHER, CANADA
I would like to use these materials to cover each human right in-depth with my ninth grade Social Studies class. I like the posters for visuals and the different lessons that are available. I feel my students would benefit greatly from this resource.
LAW STUDENT, BRAZIL
I'm 21 years old and studying law. Since I was 18 years old, I have worked as a volunteer with international NGOs. I met people from many countries and I always shared with them data about human rights and respecting differences. I believe that education is the way to change the world for the better. I would like to be a teacher and help people to make a difference. I can see with United for Human Rights the possibility to help high school students understand their rights and assimilate them to develop critical thinking.
NGO PARTNERSHIP DIRECTOR, MALAWI
Our focus is fighting for the rights of children and youth. After doing research, we noted that most Malawian youth and children are exposed to human rights abuses such as child labor, not being offered medication when sick, child marriages, torture and other cruel, inhumane treatment. We would therefore like to partner with you so that we can learn more about youth and children's rights.
TEACHER, SOUTH CAROLINA
Please send me copies of the What Are Human Rights? booklets for each of my kids. I have about 180 students and I think this is a great take-away from the lessons we are teaching.
COMMUNITY EDUCATOR, NIGERIA
I plan to meet 50 youth from my community, play the videos and deliver the curriculum you are providing.
---
FACTS
UDHR by the numbers
For the 70th Anniversary of UDHR, let's look at the stats.
18
MEMBERS
of political, cultural and religious backgrounds comprised the commission to create the UDHR
70
YEARS
with the UDHR as the guiding document for defining, protecting and maintaining human rights
500+
LANGUAGES
into which the UDHR has been translated, making it the most translated document on Earth
193
MEMBER NATIONS
uphold the UDHR as the United Nations platform for world peace
48
NATIONS
signed the original declaration to ratify it in 1948
---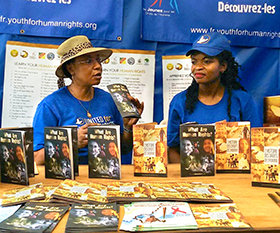 RESTORE HUMAN RIGHTS
Join the international human rights movement by becoming a member of United for Human Rights. UHR assists individuals, educators, organizations and governmental bodies in all parts of the world to raise awareness of the Universal Declaration of Human Rights.