NEWS
‣
MAKING HUMAN RIGHTS A GLOBAL REALITY
TURNING LIVES AROUND IN WASHINGTON, DC'S TOUGHEST WARDS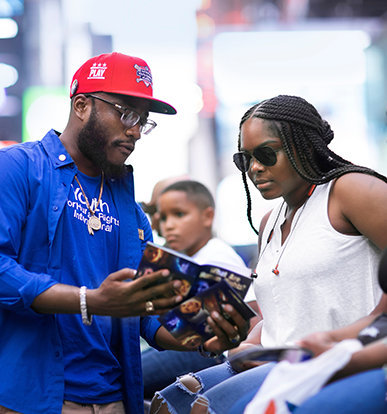 Travis Ellis uses his own experience with crime and drugs, infused with knowledge of human rights, to help change DC's future.
Washington, DC's homicide rate more than doubled in just four years, prompting DC leaders to call the trend an "emergency." However, arrest of offenders is not enough, when half of those later released end up behind bars again within three years. These "returning citizens" often can't find housing or employment, and instead they return to crime and prison.
But now they have Travis Ellis, a 30-year-old Christian minister, hip-hop artist and human rights enthusiast in Washington, DC. Growing up in the city's Wards 7 and 8, Ellis was already involved in a life of drugs, gangs and crime by the time he was 13. But it all caught up to him at age 18 when a near-death experience led him to hospitalization in a vegetative state.
He was revived with a new purpose through Bishop Dwayne E. Stewart Sr. of the Gospel Truth Life Changing Ministries. Travis became a minister in 2008 and dedicated his life to helping others come off the streets. He teamed up with Warees Majeed and Sadiq Ali, MBA, to form Yaay Me—a group to help underprivileged youth—and also worked with the Millionaire Manners Academy. Ellis says, "I do what I do now just to be an inspiration to somebody else—the desire to inspire."
In 2015, Ellis was introduced to the YHRI materials, which fit perfectly with his ongoing work. He and his team started with focusing on returning citizens, helping them to not only learn skills needed to gain employment and find housing, but also to rebuild their emotional, mental and social health.
A key human right he emphasizes in seminars is Article 3 of the Universal Declaration of Human Rights, "The Right to Life," and not just of the returning citizen but of other people's lives. Article 2, "Don't Discriminate," hits home, as 10 percent of DC's population is black, but blacks make up 89 percent of those released from prison. Ellis demonstrates Article 26, "The Right to Education," by helping returning citizens get the education they need to become gainfully employed.
"I feel I've accomplished seeing folks successfully integrate back into their community after being away for however many years," says Ellis. "I think being able to see them overcome challenging behaviors and figure out a way to succeed is the most gratifying part of my work."
"I do what I do now just to be an inspiration to somebody else—the desire to inspire."
In 2018, Ellis's team helped the DC mayor's office develop the Pathways Program, a 12-week course for returning citizens. They further developed a course for Maryland's Evening Reporting Center for youth on probation. They additionally do summer camps in partnership with the DC Housing Authority, after school programs with the DC Promise Neighborhoods Initiative and work the streets with Cure the Streets.
As for those going through the DC mayor's Pathways Program, the usual 60 percent recidivism rate plummets to only 6 percent among those who graduate.
And with Ellis all the way are the YHRI materials, no matter the public he's reaching out to. He has already touched the lives of 10,000 youth and adults in four wards of Washington, DC, and in the states of Maryland and Virginia.
---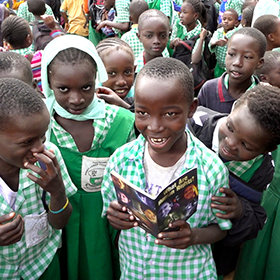 PROTECT THEIR RIGHTS
Join the international human rights movement by becoming a member of United for Human Rights. UHR assists individuals, educators, organizations and governmental bodies in all parts of the world to raise awareness of the Universal Declaration of Human Rights.