NEWS
‣
MAKING HUMAN RIGHTS A GLOBAL REALITY
PASSIONATE CHAMPION OF HUMAN RIGHTS AWARDED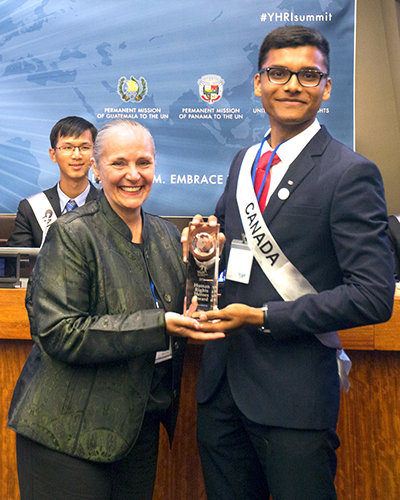 Abeir Liton, a Bangladeshi Muslim youth has championed the cause of human rights.
Bangladeshi Canadian youth Abeir Liton, 17, was honored at the Summit for his extensive and inspiring human rights work in his home town of Toronto, earning him the prestigious Human Rights Hero Award. "I felt very honored to receive the award," says Liton. "Youth for Human Rights International has provided me the encouragement and motivation to continue to be an activist of human rights education."
Ambassador Michael Grant of Canada participated in the summit, meeting with and congratulating Liton and his fellow Canadian youth delegates.
After being introduced to Youth for Human Rights (YHR) in 2012, Liton has taken the program and run with it in Toronto, the most ethnically diverse province in his nation, where he and many like him are only one generation removed from a day-to-day life without human rights.
Some of Liton's fellow YHR volunteers themselves fled countries because of human rights abuses. "I picked friends who come from war-torn countries who have seen these things first hand," says Liton, "so it really touched their hearts when they heard about this club. They were very motivated." Besides inspiring three new YHR clubs in Toronto schools, Liton has distributed thousands of booklets and volunteered hundreds of hours to educating youth on their fundamental human rights, thereby creating new young champions of peace.
---
WE

really

WANT TO HEAR FROM YOU
The United for Human Rights 2016 International Human Rights Summit was inspirational and educational for attendees and participants. Here is what they have to say.
CHILD ATTENDEE
"Loved it. It was interesting and fun. I dream to be one of those speakers one day. Thank you for being so kind and trying to make equal rights for other people out there."
YOUTH MUSIC PERFORMER, NEW YORK
"It's the truth speaker voice of youth."
CO-FOUNDER, SUSTAINABLE DEVELOPMENT SOCIAL ENTERPRISE
"I found the summit to be so inspiring. I was on the verge of tears all day. I'm absolutely willing to collaborate in implementing and organizing events…hopefully reaching refugee camps and doing anything to help your message to reach out to everyone."
YOUTH DELEGATE—CANADA
"The best part is meeting like-minded delegates from different corners of the world. I loved sharing our experiences with each other and acting as professionals. I didn't realize how much our community work impacted the entire globe. I'm endlessly thankful for the opportunity to represent my country and thanks to all the organizers and volunteers."
YOUTH DELEGATE—PAKISTAN
"Wonderful experience. I could see our human rights family is growing. After my speech, a girl came up to me and told me she has been a slave and she felt so happy that I spoke up for women."
YOUTH DELEGATE—BANGLADESH
"I've had an incredible experience. It will surely help me to mobilize more young people in the human rights education program in my country. I will surely keep you updated, my friends."
YOUTH DELEGATE—BANGLADESH
"Amazing to meet and learn from such a diverse community of young leaders. The summit creates a great educational network and facilitates connection between countries."
---
MAKING HUMAN RIGHTS EDUCATION AVAILABLE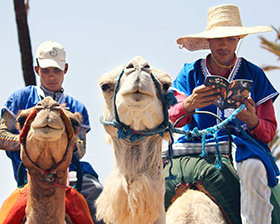 Join the international human rights movement by becoming a member of United for Human Rights. UHR assist individuals, educators, organizations and governmental bodies in all parts of the world to raise awareness of the Universal Declaration of Human Rights.