NEWS
‣
MAKING HUMAN RIGHTS A GLOBAL REALITY
YOUNG FREEDOM FIGHTERS FROM 41 NATIONS CONVERGE AT 13TH ANNUAL SUMMIT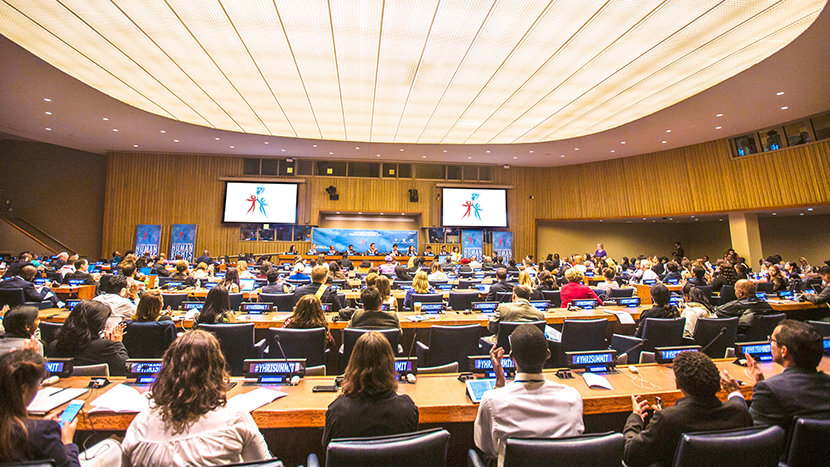 Held at the United Nations Headquarters in New York, United for Human Rights' 13th annual summit highlighted the work and passion of 72 young champions of peace.
To the 72 young men and women representing 41 countries at the 13th annual International Human Rights Summit, held this year at the United Nations in New York, it is time to end human rights abuse.
From human trafficking to police brutality, extreme poverty, bullying, gang revenge and war, the delegates to the summit state that as brutal and violent as these are, they are resolved with education.
"Gangs in Timor were responsible for over 200 deaths each year," said a youth delegate from Timor-Leste who has been a Youth for Human Rights volunteer since 2011. "Now many of the over 300,000 young people who have received human rights education are young people who used to be part of these school gangs. These days, those school gangs have changed from being a problem to becoming human rights defenders because of the help of the human rights education program."
"Our humanity is in peril," said Rahaf, a Saudi Arabian youth delegate. "We are being separated—labeled by our religion, race, gender, nationality. Our unity relies on our humanity. It is our duty to teach and carry the Universal Declaration of Human Rights and practice it."
Augustine Brian, World Vision Tuberculosis provincial coordinator and Ambassador of Youth for Human Rights for his nation, shared with the youth and 400 guests in attendance how human rights education can undercut and reverse abuse even in his primitive and often violent country of Papua New Guinea.
Brian was a victim of police brutality, but rather than seek revenge he found Youth for Human Rights, which he has now taken throughout his province, educating and partnering with the very police force that perpetrated his assault.
Youth delegates at the summit presented their work to their peers and the 400 guests attending, and heard from human rights luminaries including ambassadors and United Nations representatives.
In his presentation, Ambassador Irenee Omositson Namboka, former United Nations Human Rights Protection Adviser and Associate Fellow, told the youth delegates that the right to education, including human rights education, is second only to the right to life.
"Education is the primary vehicle by which economically and socially marginalized adults and children can lift themselves out of poverty and obtain the means to participate fully in their communities."
---
TAKING ACTION
Youth Embracing YHR Discover the Leader in Themselves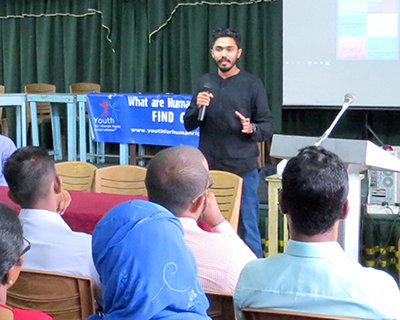 Ahmad, a young Sri Lankan, found YHR and felt he needed to do something for his nation. "I felt it was time for me to step out and teach and spread this message and make them feel valued and respected as humans."
He named his YHR chapter "29—Responsibility," based on Article 29 in the Universal Declaration of Human Rights that reads, "We have a duty to other people, and we should protect their rights and freedoms." He has gone on to teach human rights in schools and colleges around the capital of Sri Lanka, reaching thousands with YHR lessons.
"That's the beginning of a generation of youth who will step into this society with humanity, with love and with responsibility built within them as responsible humans."
Ahmad is now working in tandem with the Human Rights Commission of Sri Lanka to bring human rights to his country.
---
MAKING HUMAN RIGHTS EDUCATION AVAILABLE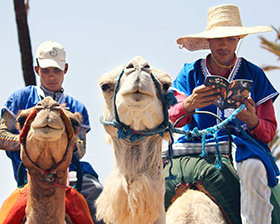 Join the international human rights movement by becoming a member of United for Human Rights. UHR assist individuals, educators, organizations and governmental bodies in all parts of the world to raise awareness of the Universal Declaration of Human Rights.