NEWS
‣
MAKING HUMAN RIGHTS A GLOBAL REALITY
THAILAND CONFERENCE ON HUMAN RIGHTS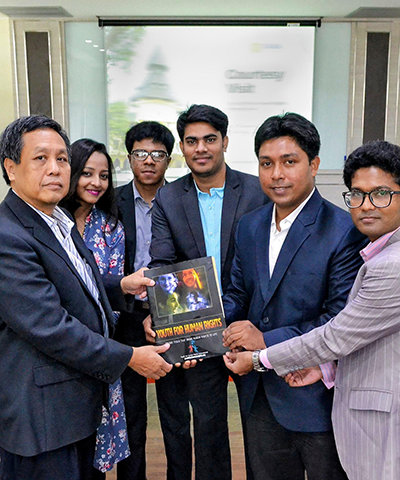 International conference brings together human rights advocates from six nations.
The Youth for Human Rights Bangladesh chapter organized a daylong International Conference on Youth Engagement and Human Rights in partnership with Youth for Human Rights Nepal and the Asia Centre Bangkok. The Asia Centre Bangkok seeks to connect people and regions through collaborative partnerships.
Youth from Bangladesh, India, Indonesia, Nepal, the Philippines and Thailand convened in Bangkok. These countries represent a zone prone to human trafficking, serving as a source of trafficking victims and as transit conduits to other locations. This is but one human right issue afflicting the area and its youth, along with ethnic conflicts and discrimination against minorities.
The workshop and its discussions aimed to create a sense of responsibility among youth toward the promotion and protection of human rights. The Bangladesh Ambassador to Thailand addressed the conference stating, "Youth must respect peace and tolerance to secure human rights. Human rights education can empower the young generation."
Also participating in the conference were organizations coming together to tackle human rights issues in this region. This included the Asian Institute for Human Rights, the German-Southeast Asian Center of Excellence for Public Policy and Good Governance and the Institute of Human Rights and Peace Studies at the Mahidol University.
---
WE

really

WANT TO HEAR FROM YOU
Social studies teachers across the US and Canada have been using the Youth for Human Rights International materials to teach youth to respect their own and others' rights. Here's what some had to say.
MIDDLE SCHOOL TEACHER, MASSACHUSETTS, USA
"Love it! The United music video—the kids love it! We have great conversations about human rights in students' lives. We use art to help students express their understanding of the Declaration of Human Rights."
TEACHER, IDAHO, USA
"OMG! I've been using your materials for the last six years. I love the materials and noticed an immediate difference in my kids from when I started using them. I start off every year with your curriculum and the kids love it. They treat each other with respect and overall have better attitudes toward life."
PUBLIC SCHOOL TEACHER, NEBRASKA, USA
"One of the most powerful parts of the lessons are the videos. They make students stop and think. This is a very powerful tool to connect with students' real life. It gives them a better understanding of their rights and that many around the world are fighting for the rights they may be taking for granted."
CATHOLIC SCHOOL TEACHER, ALBERTA, CANADA
"Great lessons! Students became more engaged. They found the lessons valuable to their lives. This is a neat program. I am very glad I came across it. I have been sharing my educator package with other social studies teachers and in turn, they are ordering their own after seeing what a great resource it is."
TEACHER, NORTH CAROLINA, USA
"The materials are engaging and summarize human rights very well. I would recommend it to any teacher in their classrooms. It helps reinforce the point to 'Be the change we want to see in the world.'"
---
FACTS
THE UDHR STATES:
"We should act toward one another in a spirit of brotherhood."
We are changing these facts:
3.2
MILLION
students are victims of bullying each year
54%
SAID WITNESSING
abuse at home can lead to increased violence at school
1 in 3
U.S. STUDENTS
report experiencing bullying at school
75%
OF ADULTS
are affected by bullying in the workplace, whether as a target or a witness
160,000
STUDENTS
skip school for fear of being bullied every day
---
RESTORE HUMAN RIGHTS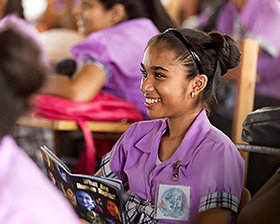 Join the international human rights movement by becoming a member of United for Human Rights. UHR assists individuals, educators, organizations and governmental bodies in all parts of the world to raise awareness of the Universal Declaration of Human Rights.