Bangladeshi Students Shine Spotlight on Nation's URGENT Human Rights Issues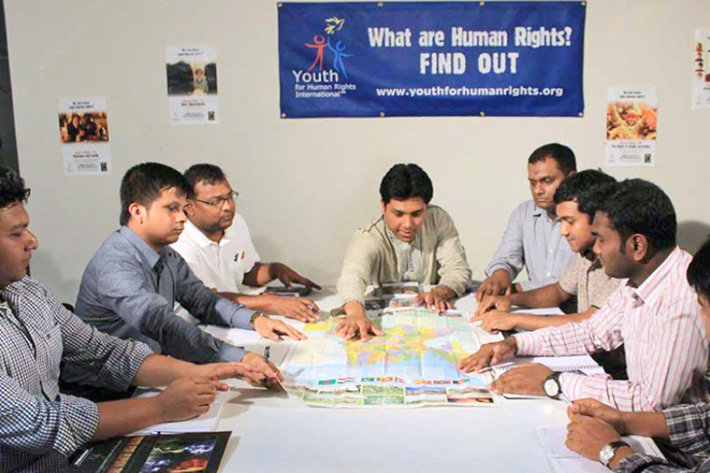 In Bangladesh, a country the size of the state of Idaho, nearly 83 percent of the population lives on less than $2 a day. The world's second-largest exporter of clothing, Bangladesh pays garment workers as little as $68 a month for 10-hour days under sweatshop conditions. Some 85 percent of these workers are women—who are left with the choice of putting up with deplorable conditions or no job.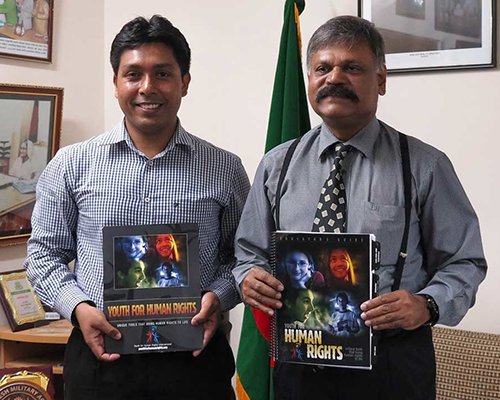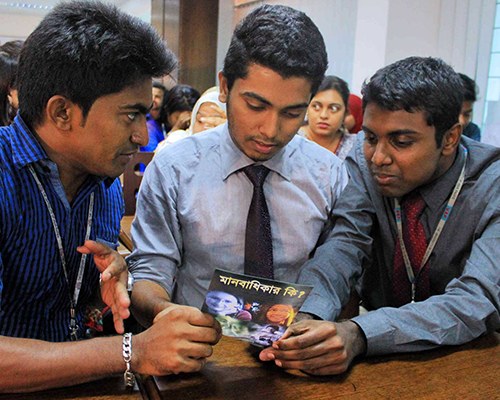 Unwilling to tolerate these abuses, a law student at the University of Chittagong in southeastern Bangladesh looked for the answer to how to rally the people of his country to demand a change. It was in 2009 while he was studying as an exchange student in Washington, D.C., that the young man, Saimum Reza Talukdar, discovered a tool to raise awareness of human rights—the Youth for Human Rights International (YHRI) education curriculum. The rest is history.
On his return to Bangladesh, he formed a youth leadership organization, training the members with the YHRI materials he ordered online. He began delivering human rights lectures to junior law school students.
"The wonderful thing that I found with this material is that the stories in the films are so simple and so understandable to people, even an 8- or 10-year-old child can understand them easily," says Talukdar. He realized that with these materials, he could help anyone in Bangladesh understand their rights.
On completing his law degree, Talukdar became a lecturer in law at Dhaka's Eastern University. He began an educational campaign across the entire campus, forming a YHRI club in every school of the university. His message to them: Students are in a privileged position and need to take responsibility for the future of Bangladesh by teaching rights to others.
The university club took this on, conducting their own lectures, petition drives, workshops and marches. In just one month, they activated more than 2,100 students to spread the message of human rights.
Next, he established a National Bangladesh Youth for Human Rights chapter. His team took human rights directly to the garment industry—right down to the factory floor—with the slogan, "Empowering the people will finally empower the nation."
Through petition drives, human rights walks, lectures and media, in their first three months, Youth for Human Rights Bangladesh reached more than 390,000 people. These activities are now expanding across Bangladesh, now with the official support of the Bangladesh National Human Rights Commission.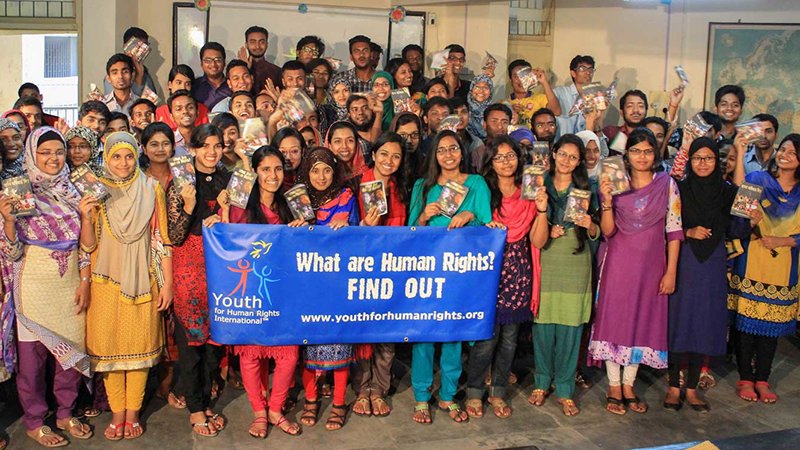 ---
MAKING HUMAN RIGHTS EDUCATION AVAILABLE FOR ALL
United for Human Rights makes its human rights educational materials available free of charge to students and educators and available to all through various mediums. In the last year alone: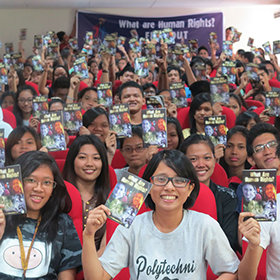 Online
More than 4.4 million people have visited
humanrights.com
and
youthforhumanrights.org
Booklets & Curricula
Over 24,000 people ordered materials to teach human rights.

Television
77 million people watched the human rights ads on the Universal Declaration of Human Rights.
---
HELP MAKE HUMAN RIGHTS A REALITY
Join the international human rights movement by becoming a member of United for Human Rights. UHR assists individuals, educators, organizations and governmental bodies in all parts of the world to raise awareness of the Universal Declaration of Human Rights.