Attorney General Prioritizes Rights Education
TOWARD HUMAN RIGHTS IN GUATEMALA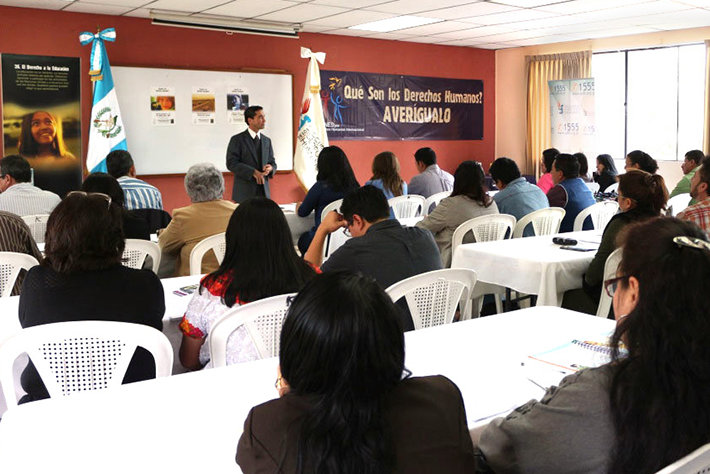 Over 200,000 Guatemalans died in the 1960-1996 civil war. According to the UN-sponsored Historical Clarification Commission, 83 percent of those killed were indigenous Mayans, and 93 percent of these gross human rights violations were perpetrated by the military.
To help the country recover from this nightmare, the Guatemala Congress charged the Human Rights Attorney General with the task of defending the rights established in the Constitution of the Republic and in the Universal Declaration of Human Rights.
Searching for an effective curriculum to raise awareness of human rights, Ms. Cynthia Maria Guerra, director of Promotion and Education for the Human Rights Ombudsman, found the United for Human Rights website and ordered an Educator's Package online.
She then organized a workshop for educators from each of the 22 Guatemalan states to be trained on the United for Human Rights materials. United for Human Rights International flew trainers to the country to deliver the course to the 44 human rights educators, who have now gone on to deliver human rights education to more than 12,000 students and educators across Guatemala.
Next, Guerra introduced the United for Human Rights program to the military's Academy of Human Rights, resulting in implementation of the curriculum on all 30 Guatemala military bases with the goal to reach the entire army.
The Human Rights Attorney General Office signed a Memorandum of Understanding with United for Human Rights to expand the program's implementation within every branch of the military and throughout all of Guatemala.
---
Human Rights, What Are We Fighting For? The Stats
Youth are our future. To stop human rights abuses before they start, we must first reach out to youth and educate them.
Child Soldiers: More than 300,000 children under the age of 18 are exploited as child soldiers in armed conflicts worldwide.

Children: In the past decade, armed conflict has killed 2 million children, disabled 4-5 million, left 12 million homeless, and orphaned more than 1 million.

Labor: There are approximately 246 million child laborers worldwide.

Syria: Over 4 million people, half under 18, have now fled the crisis in Syria, making it the largest exodus from a single conflict in a generation and placing humanitarian systems under increasing financial strain in their effort to provide help.
---
HELP MAKE HUMAN RIGHTS A REALITY
Join the international human rights movement by becoming a member of United for Human Rights. UHR assists individuals, educators, organizations and governmental bodies in all parts of the world to raise awareness of the Universal Declaration of Human Rights.