NEWS
‣
MAKING HUMAN RIGHTS A GLOBAL REALITY
HUMAN RIGHTS EDUCATION ALIVE IN IRELAND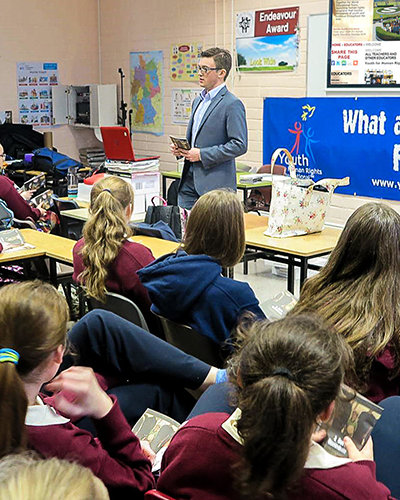 Human Rights Director engages Catholic school students with human rights education.
Students and teachers don't know that a recorded 30,000 women have been trafficked into Ireland in the last few years or that asylum seekers are forced to live in mobile homes for up to nine years, unable to work or make a better life for their families," says Ryan Ellory, Human Rights Director of the Church of Scientology National Affairs Office of Ireland.
To address this widespread unawareness, Ellory launched a series of Youth for Human Rights (YHR) seminars at schools in Dublin and Cork County. He recently delivered to two Catholic girls' schools, totaling 299 students.
The girls were "fascinated," "focused" and "engaged," says one teacher. YHR videos sparked lively debate as students tackled issues of trafficking and slavery. Of particular interest was Human Right #11 "We're Always Innocent Till Proven Guilty"—the PSA was played by request and nearly every student shared a personal story of the right being violated.
Feedback from the seminars was unanimously positive. Said one teacher, "Working in a school with disadvantaged status can be tough, but knowing that you're making a difference in the lives of these young women is amazing. Ryan helped me to make a difference that day and I wish to thank him wholeheartedly.…I will definitely tell the other teachers about this and make sure we have him back for more lessons."
Eight more teachers have since adopted YHR for their own classes.
---
WE

really

WANT TO HEAR FROM YOU
Human rights groups, each with their own founding focus, join together as United for Human Rights with the common goal of human rights education. Here is what a few such leaders say:
FORMER PRESIDENT, COUNCIL OF PAKISTAN AMERICAN AFFAIRS "One thing I learned is small people doing something can bring around big results….If we can get out and teach people what their basic human rights are, then we have solved a major problem that is plaguing the world."
DIRECTOR, PEACE ACADEMY, UNITED KINGDOM "This is the cause that can make a huge difference to the community, to all kinds of people. If they know their rights, they can defend themselves and they can stand up against any abuse or any wrongdoing."
CUBAN HUMAN RIGHTS ACTIVIST AND FORMER US CONGRESSMAN "What I've heard from a lot of the folks who have read the materials in a totalitarian country—they say, 'it's like a breath of fresh air.' You know it has meant a lot to them."
FOUNDER, YOUTH ON THE MOVE EDUCATION INTERNATIONAL "United for Human Rights is about educating the people. Because if you're not exposed to what the rights are and what it is to be treated without certain rights, then you're helpless. You feel helpless. You don't call for help. You don't speak up. But when they see [The Story of Human Rights], people start thinking maybe there is something I can do."
FORMER HUMAN RIGHTS AND EDUCATION PROTECTION ADVISOR "Even the [name] itself 'United for Human Rights' comes in very handy today in the world—inviting people of all ages, from all parts of the world, to come together and see each other as one. So United for Human Rights is so pertinent, it's so good. In fact, it's consoling in a world which is being torn apart."
---
We need your help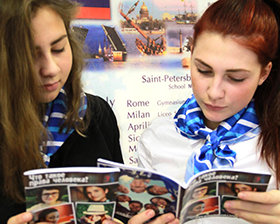 Join the international human rights movement by becoming a member of United for Human Rights. UHR assists individuals, educators, organizations and governmental bodies in all parts of the world to raise awareness of the Universal Declaration of Human Rights.