NEWS
‣
MAKING HUMAN RIGHTS A GLOBAL REALITY
YOUTH FOR HUMAN RIGHTS PILOT A GREAT SUCCESS IN MONGOLIAN SCHOOLS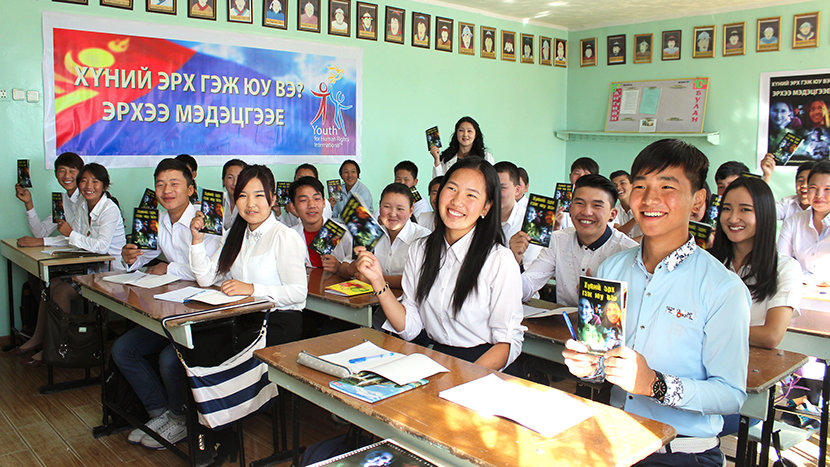 More than 4,000 Mongolian students learn their human rights in a pilot. The National Human Rights Commission of Mongolia plans to cap it all off with countrywide curriculum implementation.
In a population of 2.8 million, 5,000 women are trafficked each year in Mongolia. A young democracy, the nation's legacy includes the oppression of a communist regime and widespread lack of knowledge about human rights.
On the other hand, Mongolia's constitution guarantees many fundamental rights, and has as its goal a humane and civil society.
Youth for Human Rights International Ambassador Sandra Lucas wanted to help bring the day-to-day reality of life in Mongolia closer to the vision of its constitution. Thus, she reached out to the Program Director of the National Mongolian Human Rights Commission (NMHRC) and presented the Youth for Human Rights (YHR) program. After reviewing it, the Program Director told Lucas YHR was vital to his country, and that he hoped to get the knowledge in its materials out to every soul in Mongolia.
"All told, 4,940 Mongolian students received YHR training over the course of the three year pilot. With educators and youth alike on fire about human rights."
Youth under 18 comprise 45 percent of the Mongolian population, making schools the obvious starting point for human rights education. Accordingly, a memorandum of understanding was signed, and the NMHRC Director organized human rights training for a core group of 40 teachers. With an overwhelmingly positive response from the teachers, the Commission translated all YHR materials into Mongolian and orchestrated a pilot program for 20 secondary schools in the capital of Ulaanbaatar.
Teachers interwove the 30 human rights into their history curriculums to excellent results. In Secondary School Number 18, students delivered lessons to elementary school pupils and educated families through door-to-door visits near Sükhbaatar Square, while a private school started a human rights club, appointing ten young freedom fighters to train their peers.
All told, 4,940 Mongolian students received YHR training over the course of the three year pilot. With educators and youth alike on fire about human rights, the NMHRC plans to build this into all Mongolian schools.
---
FACTS
THIS YEAR'S STORY OF HUMAN RIGHTS
The "who," "how" and "how many" we've educated in the last 12 months.

196
COUNTRIES
from Afghanistan to Zimbabwe had our materials sent to their citizens in the last year.

45,327,253
PEOPLE
digested news on United or Youth for Human Rights via print or broadcast media.

18,877
ORDERS
have been fulfilled for materials, including booklets and information kits.

266
STATIONS
have aired our human rights PSAs or The Story of Human Rights to an estimated 93 million people.
876,461
STUDENTS
worldwide received Youth or United for Human Rights training in their classrooms.
---
DONATE
Support Youth for Human Rights and help protect young lives from human rights abuse. Your contributions enable us to make our educational materials available free of charge to schools, youth organizations and other groups and individuals. Your support helps empower people with the facts they need to live happy, secure lives.