NEWS
‣
MAKING HUMAN RIGHTS A GLOBAL REALITY
DEMME DURRETT ROUSES HUMAN RIGHTS SPIRIT OF HOUSTON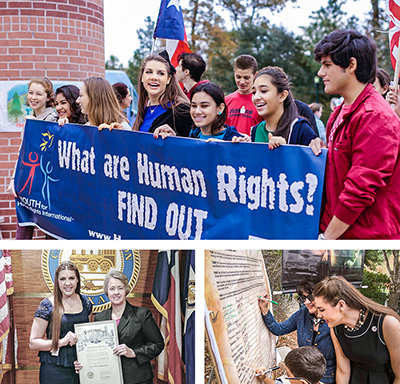 Demme turned an annual United for Human Rights tradition into a Texas-sized affair, showing that anyone can make a difference.
With United for Human Rights chapters and groups recently carrying out Human Rights Walks and events, in honor of International Human Rights Day, let's look at one stellar example of this annual gathering carried out by Demme Durrett of Houston, Texas.
The Human Rights Walk and Festival in Houston, Texas, for Human Rights Day (December 10) was the most meaningful yet, as Demme and her team both honored an Afghani human rights hero and acknowledged the efforts of over 20 local non-profit human rights organizations.
Demme, now a 21-year-old college student, organized her first Human Rights Walk seven years ago, at the age of 14, inspired by a friend who founded the annual International Human Rights Day Walks.
"He couldn't stop telling me about the incredible experience he had! His project sounded like something that would allow me to both do something meaningful and to meet like-minded youth," says Demme.
But Demme wanted to bring something new to the walks, something Texas-sized, because as the saying goes, "everything is bigger in Texas."
She teamed up with her mother and created a Human Rights Day Walk and Festival—a walk that would culminate in a day of outdoor activities promoting human rights. In 2011, she put on her first such event in her hometown of The Woodlands, Texas, a suburb of Houston, with over 1,000 people participating.
Each year since, Demme and her growing team have expanded the activities to be bigger, better, and to reach more people with human rights education.
Inspired by these suburban events, in 2015, Demme was asked to bring a Human Rights Day Celebration to the entire city of Houston. To do justice to this third largest city in the US, Demme and team partnered with the City of Houston, the Mayor's Office and Rice University to put on a Houston-sized walk and festival. The event was not only the largest yet for Demme, but possibly the largest such celebration in the US. Included were speeches from human rights leaders, performances from international dance groups and over 30 public, non-profit and private organizations showcasing their own human rights work.
"You would be joining with others all over the world to raise awareness about human rights and add to the momentum of making positive change in the world."
Citizens of her community sent her countless messages of thanks, saying the events have "empowered them to be agents for human rights education." But nothing is more meaningful to Demme than setting an example to other youth. "The best part was the 10-year-old girl who came up to me and told me that she couldn't wait to get a little older so that she could put on events like this too."
Over just a seven-year span, Demme's hometown advocacy has grown into a dedicated team of volunteers and a world-class annual event that has touched the lives of millions with its message of peace and human rights.
To anyone contemplating starting their own Human Rights Walk, Demme says, "Do it! You can start with something smaller and less daunting than we did. You'll join with others all over the world to raise awareness about human rights and add to the momentum."
---
DONATE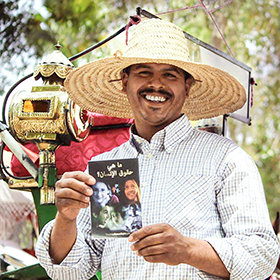 Join the international human rights movement by becoming a member of United for Human Rights. UHR assists individuals, educators, organizations and governmental bodies in all parts of the world to raise awareness of the Universal Declaration of Human Rights.