NEWS
‣
MAKING HUMAN RIGHTS A GLOBAL REALITY
RACING FOR HUMAN RIGHTS, EVERYONE WINS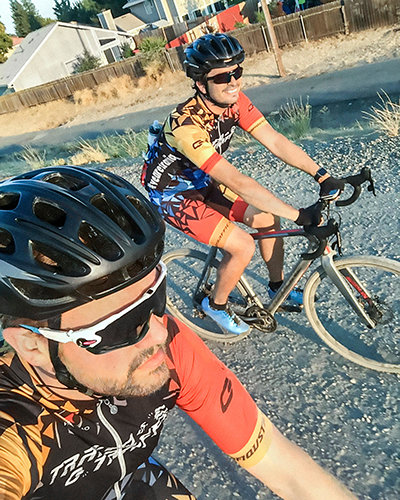 Two Sacramento cyclists make a positive impact for human rights doing what they love.
Andrew D. Noel and Ryan Johnson of Sacramento, California, started a bicycling club devoted to human rights awareness and called their club "Trafiq." Their jerseys read, "Trafiq vs. Traffic," announcing their cause of cycling to fight human trafficking.
"Human rights are such a fundamental part of existence and have such an impact when they are known that we wanted to increase their awareness," says Johnson.
Noel designed their jerseys to promote awareness. They contain the United for Human Rights and Youth for Human Rights International logos, a quote from the Universal Declaration of Human Rights, as well as the logo for the World Bicycle Relief charity, which sends bicycles to poor countries to enable people to do such basic things as get to school.
The jersey is always an instant conversation starter. For example, the cyclist who joined them on one leg of a ride asked talked with them for 25 miles about their mission and afterward said he wanted to start a charity of his own to help homeless people. "He was inspired seeing us and wanted to do more to help."
The initial response has been very positive, with increased awareness of human rights and universal praise for the cause wherever they go.
They are expanding their club and are looking down the road to launch charity rides and bring their message to the world.
---
WE

really

WANT TO HEAR FROM YOU
Community leaders of diverse backgrounds are joining the United for Human Rights movement and finding in it answers to their own human rights endeavors. Here is what they wanted to share.
PUBLIC AFFAIRS DIRECTOR, SIKH COMMUNITY, ITALY
"When I saw this campaign for the first time, I was struck by the simplicity and the power of the message it was giving people. I want to thank you for cooperating with us to translate and publish the material about human rights in our own language—Punjabi. To be part of the United for Human Rights Campaign really satisfies my spiritual need to help my community to know about their own rights."
STATE CHAIRMAN, HISPANIC CIVIL RIGHTS ORGANIZATION, FLORIDA
"There's nothing out there to compare this to. I wanted to be part of this type of effort and get the information out, as far as my capacity was concerned. I work with a lot of Latinos who come from different environments and countries, and they get the point of the importance of human rights and what it means to keep that alive."
HUMAN RIGHTS ACTIVIST, NIGERIA
"I have used YHRI to network and build a team, because prior to joining this campaign I worked alone."
STATE PRESIDENT, JROTC OFFICERS ASSOCIATION, ALABAMA
"I feel if we can introduce these human rights to our youth, to my generation, we can create a better world over all. The human rights program is probably one of the best programs I've ever been in touch with. I know I'm going to work with [you] in the future to come to my school or come to all of the schools throughout Alabama or even throughout the nation. You guys are teaching the entire next generation how to create a better world and that's really saving lives."
---
DONATE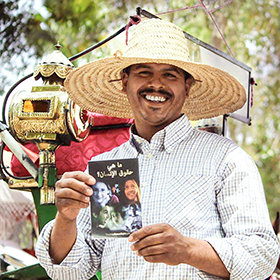 Join the international human rights movement by becoming a member of United for Human Rights. UHR assists individuals, educators, organizations and governmental bodies in all parts of the world to raise awareness of the Universal Declaration of Human Rights.