NEWS
‣
MAKING HUMAN RIGHTS A GLOBAL REALITY
TEACHERS FROM ACROSS AMERICA GET THE TOOLS TO TEACH HUMAN RIGHTS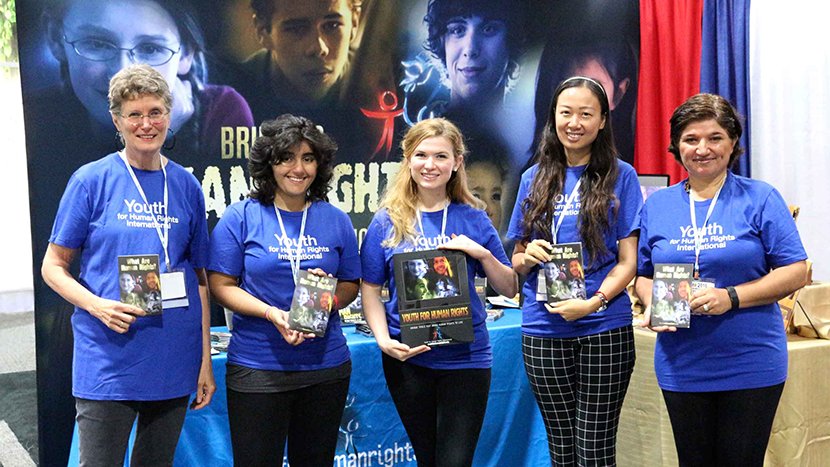 Youth for Human Rights representatives at this summer's National Education Association Expo introduced teachers to a powerful resource that celebrates the right to education and empowers teachers and students alike.
The US National Education Association (NEA) has championed the Right to Education, since its inception in 1857.
In celebration of that legacy, and highlighting the right of all youth to education in their human rights, Youth for Human Rights International (YHRI) participated in the NEA's annual expo this summer in Washington, DC.
There, they introduced hundreds of teachers to a resource designed with them in mind, showcasing the free Youth for Human Rights educator package. More than 200 teachers at the conference ordered the package and walked away with booklets and information kits to get started.
But the conference also offered the opportunity to hear from a number of educators already using the program.
Werner says human rights are the lens through which he wants his students to view history, which is why he opens the school year with Youth for Human Rights.
One social studies teacher, Chris Werner, has been using Youth for Human Rights for a year now in Trenton, New Jersey, the 27th most dangerous city in America. One of Werner's students, who emigrated from Africa in pursuit of freedom and a safer life, says Trenton is worse than his hometown.
"That is why I have to teach them this," says Werner of Youth for Human Rights, "because it's that important."
Werner says human rights are the lens through which he wants his students to view history, which is why he opens the school year with Youth for Human Rights.
"When they watched the PSAs, their demeanor changed instantly," says Werner. "They were in shock, they were silent, they were humbled, and they were empowered because then they could take that and say: 'This is all wrong. This is everything I see, and now I know what's supposed to be.'"
Werner says this starts the year with a bang, allowing him to build rapport with challenging inner-city students.
"When you show them you're teaching what they need to know, they respect you," he says.
---
WE

really

WANT TO HEAR FROM YOU
Four educators from across the globe share their perspective on, and results with, Youth for Human Rights. Tell us, how are you using the program to make a difference?
UNIVERSITY PROFESSOR IN BRAZIL
"The available material is of excellent quality, and has a clear and easy to understand language enabling a broad understanding of the history of human rights. Complementary activities also contribute to add theoretical and practical knowledge."
EDUCATOR IN PENNSYLVANIA, USA
"I implemented this program in a World Cultures course that addresses geography, history, culture, and current events… Each student researched and presented on a different right. I administered a pre-test and post-test to assess student knowledge and understanding of the Universal Declaration of Human Rights and human rights in general. All students performed significantly better on the post-test and most students earned scores of 80% or higher... Anecdotally, students seemed much more engaged in our discussions of current events issues and identified ways in which human rights were being protected or violated. This is an excellent program… the iPad app gave students the opportunity to delve more deeply into areas of individual interest."
EDUCATOR IN SOUTH AFRICA
"I just received my [educator] package last week. That parcel really made my day. Even my colleagues can't stop borrowing. [There is] jubilation even with my learners."
UNIVERSITY PROFESSOR IN MEXICO
"[I use Youth for Human Rights materials] to enlighten my students in the history of human rights, in order to explain that human rights is not after WWII but is part of the history of humankind. The idea that human rights began in Persia for them, is a surprise and it allows them to understand that human rights is not a gift from kings but is a right… [My students] are growing in respect and tolerance of human rights."
---
FACTS
THE WORLD TOUR—ALL IN ALL
Yes, we've been counting. And here we present you the Youth for Human Rights World Educational Tour cumulative report. In the name of human rights education:

462,492
MILES
traversed.

13
TRIPS
around the globe.

1,144
DIGNITARIES,
officials and humanitarian leaders involved.

10
MILLION
people reached.

85
NATIONS
visited.
---
JOIN THE MOVEMENT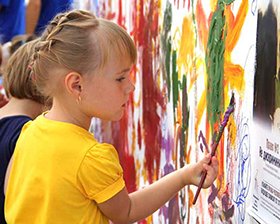 Become a member of United for Human Rights and join the international human rights movement. UHR assists individuals, educators, organizations and governmental bodies in all parts of the world to raise awareness of the Universal Declaration of Human Rights.