NEWS
‣
MAKING HUMAN RIGHTS A GLOBAL REALITY
RELIGIOUS LEADERS EMPOWER AFRICA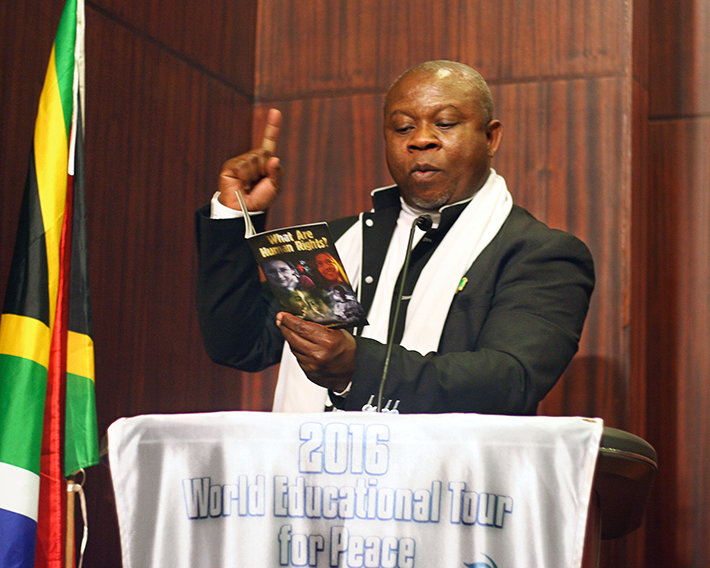 Delegates from five African nations share human rights priorities and progress.
One of the 11 stops along this year's 13th annual Youth for Human Rights International (YHRI) Educational World Tour, South Africa, saw a coming together of international delegates from Angola, Congo, Ghana, Lesotho, Nigeria and the US. The occasion was a five day "Empower Africa" summit to explore the role of religion in enacting human rights.
At the summit's core conference, Dr. Mary Shuttleworth, YHRI President, and South African herself, spoke about the unique capacity of religious leaders to improve society, commanding, as they do, the hearts of their people.
Bishop Ogbu, Founder of the IMPACT Africa Network of Pastors, echoed the sentiment and emphasized the importance of religious leaders themselves guaranteeing the human rights of those in their congregations.
Pastor Dogara Bulus Smith of Nigeria shared word of religious persecution in his country, where non-Muslims are being slaughtered by Nigerian insurgents, and explained how the Youth for Human Rights campaign is the neutral ground needed to unify the people of Nigeria.
Also over the course of the summit, Mr. Yeka Futy announced his translation of the What Are Human Rights? booklet into the local Congo languages of Swahili, Lingala, Kikongo and Tshiluba, while Professor Francisco Molero of Angola resolved to start the first Youth for Human Rights chapter in his nation.
---
WE

really

WANT TO HEAR FROM YOU
At the annual United for Human Rights International summit, humanitarians and youth delegates come together to share successes. Here is what last year's attendees want you to know.
B.B. National Youth Council of Serbia
"I am really positively surprised that there are initiatives as this one where all these young people can really do something about human rights and not just talk about them."
P.L. Youth Delegate from St. Kitts & Nevis
"What inspired me the most was the young people from around the world standing up and speaking out and doing what it takes to preserve human rights in their countries."
S.R. youth delegate from India
"I was inspired by the welcoming attitude of all the members, the new things we learned to make human rights a worldwide reality, and the initiatives we planned for the years to come to make the youth advocates of tolerance and peace."
W.J. of Global Education Motivators
"Very empowering for youth. The UN is a better place because of what happened here today."
Z.R. Youth Delegate from Japan
"I got to learn a lot and some really good ideas came to mind as to what I can do myself. I want to reach out to the most rural areas of my country, places where animals and humans drink alike from the little puddles after rain."
J.T. Youth Delegate from Timor-Leste
"I was really moved with those other young delegates' hard work toward human rights."
N.J. Youth Delegate from the Gambia
"It inspired me to do more in the coming year so as to also report back to the summit my achievements."
---
DONATE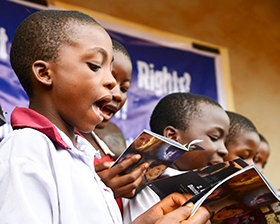 Support Youth for Human Rights and help protect young lives from human rights abuse. Your contributions enable us to make our educational materials available free of charge to schools, youth organizations and other groups and individuals. Your support helps empower people with the facts they need to live happy, secure lives.