NEWS
‣
MAKING HUMAN RIGHTS A GLOBAL REALITY
ALABAMA JUNIOR ROTC AND YOUTH FOR HUMAN RIGHTS CREATE RESPONSIBLE CITIZENS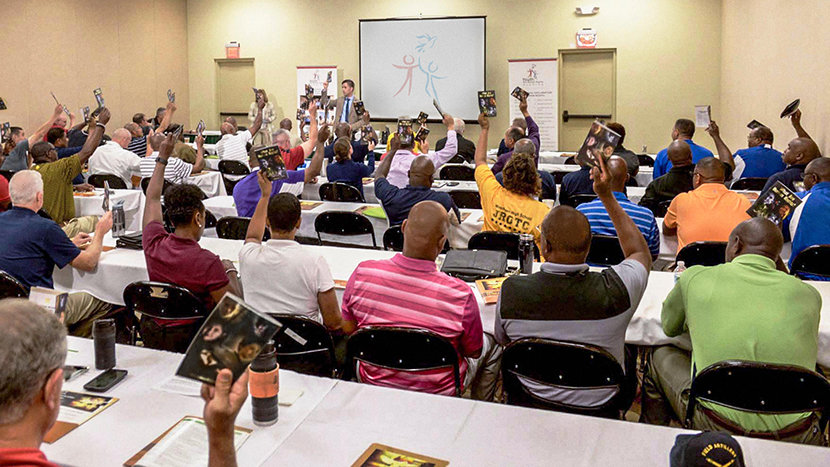 With human rights education, Alabama JROTC cadets are growing up good citizens, defying the perception of their age group as the disconnected "me" generation.
Today's adolescents and young adults are more self-absorbed than ever, perhaps accurately named Generation Me. While today's 15- to 25-year-olds are the first to grow up with advanced technology and the internet at their fingertips, it seems that they aren't using any of these resources to establish a work ethic or any meaningful success," reports one US newspaper.
This is the challenge that the Junior Reserve Officer Training Corps (JROTC), a youth leadership program sponsored by the United States Armed Forces, is up against in realizing its purpose to instill in students citizenship, personal responsibility and a sense of accomplishment.
When one Navy JROTC instructor in Alabama found Youth for Human Rights (YHR), he realized he had a "natural fit." A program that interested students in life and the world around them, teaching them to become leaders and assets to their communities. This led to an invitation for United for Human Rights (UHR) to deliver a seminar to his cadets.
Lt. Col. Robert Barrow, JROTC Director for Mobile County, attended the seminar and, liking what he saw, invited UHR to his next county meeting to train his instructors in the curriculum.
UHR returned to Alabama and trained all 40 Mobile County JROTC instructors. The newly trained instructors wasted no time. One called UHR the next morning to report he had already presented the curriculum to 30 teachers at his school. They all wanted the program and could he get 45 YHR Education Packages by next week?
Lt. Col. Barrow, stepping up the momentum, invited UHR to the Alabama JROTC State Conference—he wanted YHR statewide. There, UHR trained 92 more instructors, at least one for every high school with a JROTC program in the state.
Those instructors returned to their respective schools and began delivering, each tailoring the program to their specific class. For example, one instructor, as she goes through a lesson, reviews with the students current world events that relate to that right being taken up. Another instructor brings in students from two nearby "sister schools" to join his cadets for regular human rights lessons.
And what of those "self-absorbed" and work-ethic-less youth? From one cadet, "[JROTC and YHR] both push you to your full potential of being the best citizen and person you can be. I've learned to work hard and push myself. Both of these programs—together—make great people."
---
TAKING ACTION
Get the Word out Through Conventions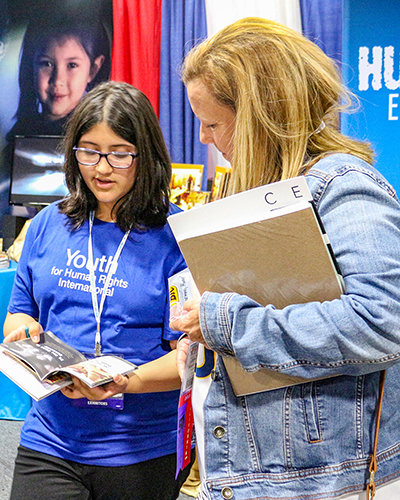 Conventions are a perfect chance to reach like-minded organizations. United for Human Rights (UHR) chapters attend these around the world and man resource booths. Conventions range from those of social science teachers to human trafficking symposiums, where we provide free educational materials and meet and collaborate with other leaders in the field of human rights.
For example, a team of UHR volunteers had a booth at one National Council for the Social Studies annual conference and reached 430 teachers from across the US, who found the materials invaluable.
One teacher who visited the booth stated, "As the social studies teacher coordinator I get asked, 'What materials should I use for human rights education?' I always tell them about your materials. I say nothing beats your human rights curriculum. It's simply the best out there."
If you would like to man a UHR booth, contact us.
---
DONATE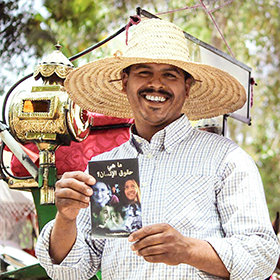 Join the international human rights movement by becoming a member of United for Human Rights. UHR assists individuals, educators, organizations and governmental bodies in all parts of the world to raise awareness of the Universal Declaration of Human Rights.