NEWS
‣
MAKING HUMAN RIGHTS A GLOBAL REALITY
TRANSFORMING GUATEMALA: FROM A LAND OF VIOLENCE TO A NATION BASED ON HUMAN RIGHTS
Cynthia Maria Guerra observed that her country of Guatemala was a nation of violence. She decided to team up with Youth for Human Rights and reverse the tide.
It all started when Cynthia Maria Guerra, Guatemala's then Director of Promotion and Education for the Human Rights Ombudsman, was looking for a solution to the human rights issues plaguing her nation. Among the abuses were violence and extortion by criminal organizations, the targeting of journalists and human rights defenders, discrimination against the indigenous population and mistreatment of women.
"Violence is everywhere. It is apparently the way to resolve everything here," Guerra states. "Once I started to work with the Human Rights Ombudsman Office, I saw how education in human rights is a right in itself."
She discovered Youth for Human Rights International (YHRI) when the Ombudsman handed her a What Are Human Rights? booklet to review, which led to a partnership between the Ombudsman's office and YHRI. Guerra and YHRI trainers taught educators in an 80-hour program covering both the Youth for Human Rights materials and tailored segments on indigenous rights, women's rights and similar areas. Around 400 were so trained, who then went on to train others. A partnership with a university led to another 1,300 teachers trained.
Completing her term in the Ombudsman's office, Guerra couldn't just turn the page and walk away. She became the Director of YHR Guatemala. "I didn't feel like just going back to my private business. I had to keep on going with my mission of establishing a human rights culture in Guatemala," she said. "The more people we can get to understand what human rights really are, the more chances we have to establish this culture, not a discrimination culture, not an abuse of power culture, not a corruption culture."
YHRI was adopted by the General Commission for the Study of Human Rights at San Carlos University—Guatemala's only national public university. The dean of the university of 153,000 students announced 2018 as the Year of Human Rights Education. Guerra said of her plans, "We want to use this opportunity and get a lot of people to do the online course. We want to have students from Guatemala join us as volunteers and also be delegates at the Summit in New York." Having already reached over 30,000 with human rights education, Guerra is determined to see her dreams for Guatemala realized. "Education to me, as Nelson Mandela said, 'is the most powerful weapon which you can use to change the world.'"
---
TAKING ACTION
Join us at the United Nations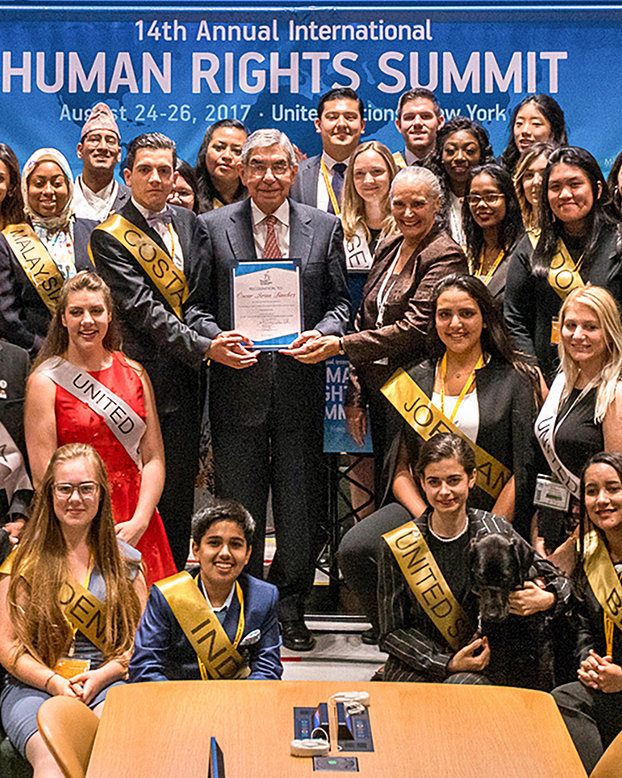 Every year since 2004 we have brought together youth and adults from across the globe for our annual International Human Rights Summits. This year will be no different and you are invited!
Held at the end of June at the United Nations Headquarters in New York, this summit promises to be unlike any other, with young people from across the globe attending as Youth Delegates and Youth Ambassadors, as well as top government and NGO speakers sharing their knowledge and guidance in the field of human rights education.
People from every walk of life are invited to attend and contribute to the promotion of human rights education. Those aged 18 to 29 can apply to be Youth Delegates and represent their nation at this summit.
---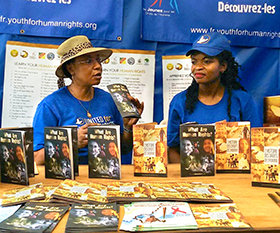 RESTORE HUMAN RIGHTS
Join the international human rights movement by becoming a member of United for Human Rights. UHR assists individuals, educators, organizations and governmental bodies in all parts of the world to raise awareness of the Universal Declaration of Human Rights.