BRINGING HUMAN RIGHTS TO THE HEART OF BRAZIL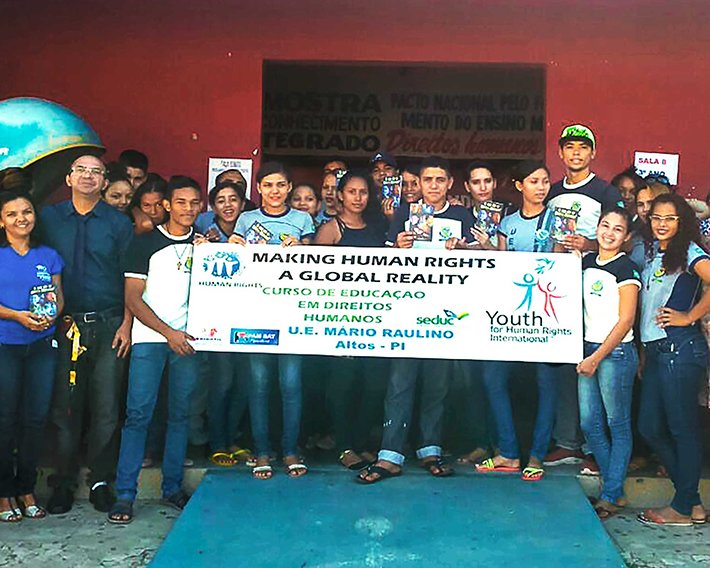 Teacher Raimundo Sousa starts at his home school, but intends to uplift the entire country with human rights.
The motto of Teresina, the capital city of Piauí, Brazil, reads Omnia in Charitatis—"All for Charity" in Portuguese.
In the spirit of that phrase, Brazilian English teacher Raimundo Sousa works just outside of Teresina. His passion is helping his fellows through human rights.
"We firmly believe that the way to achieve a better world full of justice and peace begins in small places like our school," says Sousa.
Sousa began his work in 2012, organizing events to raise awareness about bullying in schools and educate youth on human rights.
To launch the next phase of his work, he went in search of inspiration and stumbled upon Youth for Human Rights. He was eager, as he puts it, "to use and develop the ideas presented in this fantastic kit… to provoke discussions, debates and change mindsets."
Accordingly, he organized an inaugural event for 160 students at the Mario Raulino State School. Raimundo's target audience was high school students, whom he believes need to be made aware of their role in shaping society.
"We firmly believe that the way to achieve a better world full of justice and peace begins in small places like our school."
During the presentation, Raimundo took the students step by step through the Youth for Human Rights booklets, inviting 30 students to stand before the crowd, with each reciting a different human right. An eye-opening discussion followed.
"It was an amazing experience," Raimundo says.
Raimundo then orchestrated a day of social action, visiting the impoverished Mimbó community 150 miles from his city with a team of volunteers. Together, they delivered toys, clothing and food in donation boxes bearing the Youth for Human Rights (YHR) logo, and shared YHR public service announcements with those they helped.
Raimundo, who has decided to become the official representative for Youth for Human Rights in Brazil, is making plans to take the program across the country.
"[By] infusing human rights into the heart of every person, they will become real citizens," he says.
---
FACTS
THE REAL STATE OF CHILDREN'S RIGHTS
Children are our future, yet their rights are violated across the globe. Here's the breakdown:

300,000
CHILDREN UNDER 18
are exploited as child soldiers across the world.

16,000
CHILDREN
die every day, the majority from preventable or treatable causes.

246
MILLION
children worldwide are forced into hard, sometimes dangerous labor.

230
MILLION
children under the age of five are never officially registered and therefore lack the rights of ordinary citizens.

100
MILLION
children worldwide are not in school and not given the opportunity to have an education.
---
WE NEED YOUR HELP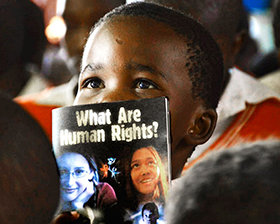 Help make human rights a reality. Join the international human rights movement by becoming a member of United for Human Rights (UHR). Assist individuals, educators, organizations and governmental bodies in all parts of the world to raise awareness of the Universal Declaration of Human Rights adopted by member nations of the United Nations in 1948. More than 60 years after that agreement, its promise is far from fulfilled.