NEWS
‣
MAKING HUMAN RIGHTS A GLOBAL REALITY
BRINGING HUMAN RIGHTS INTO A JUNGLE OF CRIME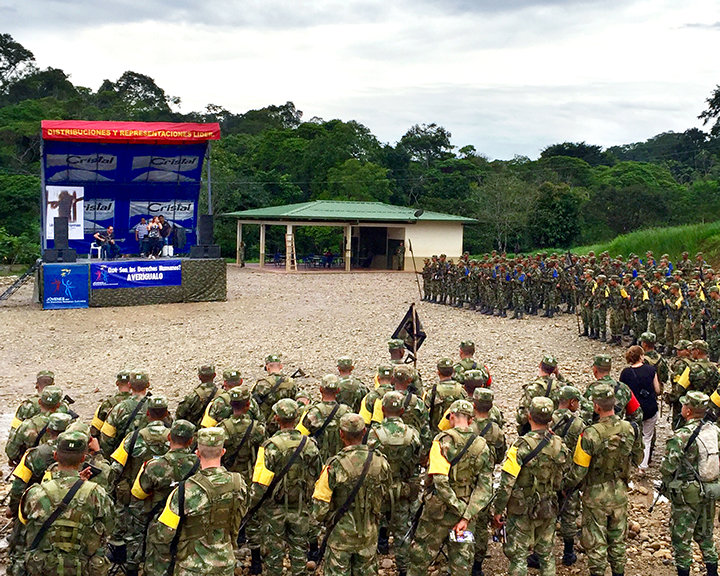 How thousands of Colombian jungle soldiers are learning the 30 articles in the Universal Declaration of Human Rights from their peers in the habitat they know best.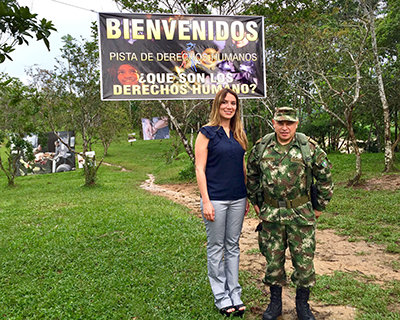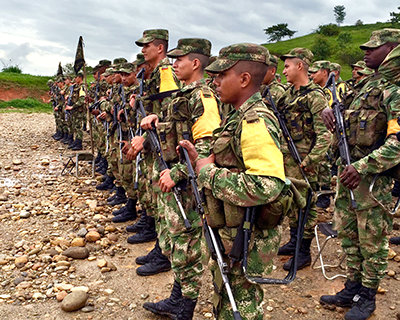 The Colombian jungles of Putumayo Department (State), at first glance, could easily be mistaken for the greenest of paradises. But here, local farmers work for drug traffickers and wars drown out the splash of waterfalls with the sound of crackling guns.
That is why General Alberto Sepúlveda, Commanding Officer of the brigade responsible for the security of the entire area, told the Youth for Human Rights (YHR) Colombia team he needed their program throughout Putumayo.
In November of 2015, YHR Colombia began fulfilling that vision, training 60 military instructors in the full human rights curriculum. These, in turn, delivered the program to 4,000 of their personnel.
"We are creating a human rights culture in Putumayo, a land of war and criminality. If we can teach human rights here, we can teach them anywhere."
Meanwhile, in the heart of Putumayo's jungles, General Sepúlveda created something entirely new in the history of the program: a human rights instruction "track." At scattered kiosks throughout the jungle, soldiers watch the award-winning documentary The Story of Human Rights, along with the PSAs that bring to life each of the 30 rights.
But nothing brings those rights to life quite like this: stations on the second leg of the track where soldiers act out for their peers each of the human rights most relevant to their jungle dealings. Complete with fake blood, real weapons and true-to-life scenarios, their performances demonstrate the wrong and right ways of handling drug traffickers according to human rights. More than 1,600 of the General's brigade have received this interactive jungle training, which continues daily.
"We are creating a human rights culture in Putumayo, a land of war and criminality," says Felipe Poveda, President of YHR Colombia. "If we can teach human rights here, we can teach them anywhere."
Out of Putumayo, which means "gushing river" in its people's indigenous tongue, will spring a new breed of soldiers—ones who, take their orders from the Universal Declaration of Human Rights.
---
FACTS
THIS YEAR'S STORY OF HUMAN RIGHTS
The "who," "how" and "how many" we've educated in the last 12 months.

196
COUNTRIES
from Afghanistan to Zimbabwe had our materials sent to their citizens in the last year.

45,327,253
PEOPLE
digested news on United or Youth for Human Rights via print or broadcast media.

18,877
ORDERS
have been fulfilled for materials, including booklets and information kits.

266
STATIONS
have aired our human rights PSAs or The Story of Human Rights to an estimated 93 million people.
876,461
STUDENTS
worldwide received Youth or United for Human Rights training in their classrooms.
---
DONATE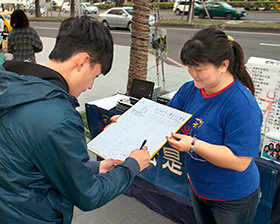 Support Youth for Human Rights and help protect young lives from human rights abuse. Your contributions enable us to make our educational materials available free of charge to schools, youth organizations and other groups and individuals. Your support helps empower people with the facts they need to live happy, secure lives.