NEWS
‣
MAKING HUMAN RIGHTS A GLOBAL REALITY
CREATING HUMAN RIGHTS CHAMPIONS IN THE SOUTHERN HIGHLANDS OF PAPUA NEW GUINEA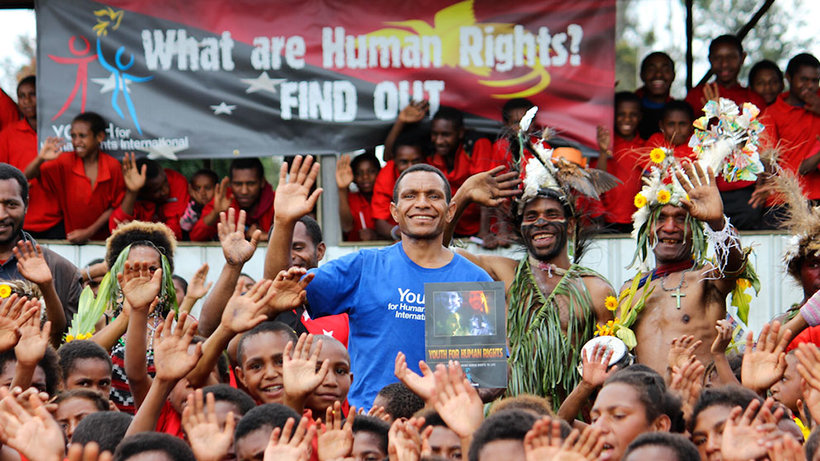 How Augustine Brian, who was abused by police in the Southern Highlands of Papua New Guinea, transformed his attackers into human rights advocates.
When Augustine Brian first received his United for Human Rights materials he sped the 4.5-hour drive home from the international shipment station in the highlands of Papua New Guinea. At his house, he watched the public service announcements over and over while his dinner grew cold.
Brian says that those PSAs answered questions he had all of his life and gave him the solution to the problems of his country.
Those problems are many: Papua New Guinea (PNG) ranks as the world's third worst country to live in with one of the highest crime rates on earth. Nearly half of the population is illiterate, living in poverty, and the state of human rights is such that the HIV positive can be buried alive and unpunished police brutality is commonplace.
Brian himself, a long-time human rights activist and World Vision Representative, was targeted by corrupt police, unlawfully detained, beaten and left incapacitated for two months with a broken jaw.
Outraged and desperate for answers, he stumbled upon United for Human Rights and took the materials to his community immediately. Amid seminars in remote villages, health-worker training and workshops to hundreds of students, Brian circled back to train the same police force that had so badly abused him, for he had decided that forgiveness was the best route. He watched as some of the same men who had held and beaten him watched the "No Unfair Detainment" and "No Torture" PSAs.
In the discussion that followed, members of the Southern Highlands Provincial Police volunteered that everyone in the country should receive this human rights education. It would lower the crime rate if they did, and, they agreed that it was time the police started respecting human rights.
Brian also received a formal apology for the treatment he received at the hands of the police.
In testament to the transformative power of human rights education, Brian now receives applications from police officers asking to join his team that educates indigenous populations across Papua New Guinea on their fundamental human rights.
All of this makes Brian hopeful about the future. After he accomplishes his goal of reaching the entire nation with United for Human Rights, he foresees the outcome will be: "Peace, stability and love—all those dream words," he says.
---
DONATE
Support Youth for Human Rights and help protect young lives from human rights abuse. Your contributions enable us to make our educational materials available free of charge to schools, youth organizations and other groups and individuals. Your support helps empower people with the facts they need to live happy, secure lives.