NEWS
‣
MAKING HUMAN RIGHTS A GLOBAL REALITY
HUMAN RIGHTS EDUCATION PREPARES GUYANA'S FUTURE GENERATION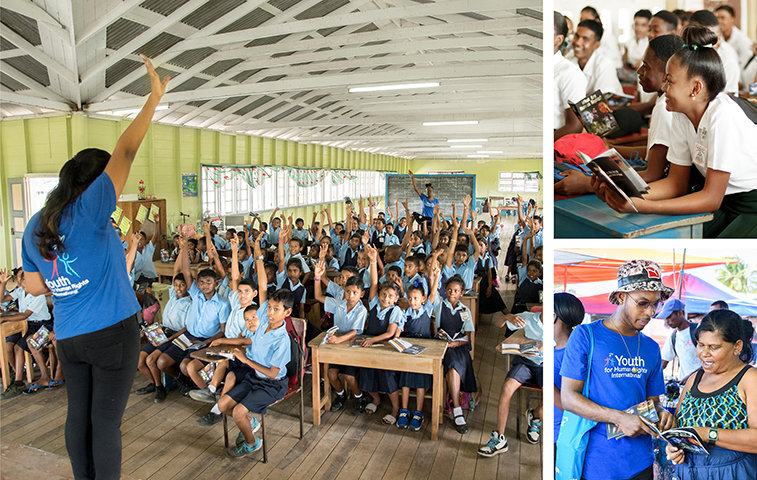 The YHR Guyana chapter is tackling domestic violence at its roots, using human rights education and awareness to change the mindset of the country's citizens.
Guyana is a nation that is considered Caribbean despite being nestled between Venezuela and Suriname in South America. Between the lighthearted soca music blaring from mini buses and their Caribbean-style festivals, one can miss major problems undermining the nation's future.
Steven Singh, President of YHR Guyana, states, "The first issue regarding human rights in Guyana is the lack of knowledge. This is a huge gap in education and it's not part of the curriculum. There is also a macho attitude where men think less of women. Gender violence is based on lack of respect, love and understanding for the other party."
After attending the 2016 International Human Rights Summit in New York, upon returning home, Singh realized he had to do something. "It didn't make sense to me that, after going all the way to the United Nations to talk, I would then allow gender violence and other human rights violations to occur in my country and not do something about it," Singh said. He therefore formed YHR Guyana.
"Through human rights education, we are preparing our future generation to make a brighter Guyana."
Shimell Mohabir was one of his first members. She says of why she joined, "Many people in our community have experienced domestic violence. When the Youth for Human Rights Guyana chapter had just started, I immediately jumped at the opportunity because I believe that human rights are the foundation for world peace."
Delivery immediately began in schools not only in the capital, Georgetown, but in the rural areas. The message went out still further through TV and radio interviews, ultimately reaching more than 17 percent of the population. With this the Guyana Ministry of Education gave YHR Guyana the go-ahead to reach all the country's schools, while the government announced the formation of special courts to protect victims of gender violence.
In the words of the country's Chief Education Officer, "Through human rights education, we are preparing our future generation to make a brighter Guyana."
---
FACTS
WHAT A YEAR CAN BRING
This year, Youth for Human Rights and United for Human Rights continued reaching farther and wider.
26,656
ORDERS
have been fulfilled for materials, including Education Packages, information kits and booklets
4,566
EDUCATION PACKAGE
orders fulfilled to schools in the past year
1,017,191
BOOKLETS
educating others on their 30 inalienable rights distributed this year
3,013
EVENTS
held across the world including petition drives, parades, concerts, fairs and school seminars
4,357,888
VISITORS
---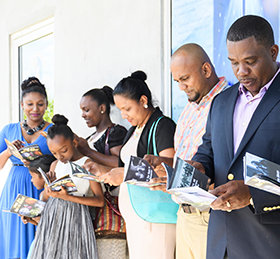 PROTECT HUMAN RIGHTS
Join the international human rights movement by becoming a member of United for Human Rights. UHR assists individuals, educators, organizations and governmental bodies in all parts of the world to raise awareness of the Universal Declaration of Human Rights.